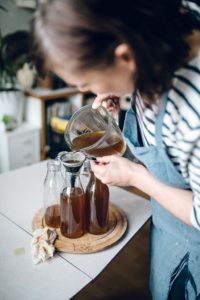 Each December, lists are unveiled that tell us what we'll be eating and drinking during the upcoming year. But the concept of food and beverage trends can appear arbitrary. One company has correctly identified hot trends in recent years.
Louisville's Flavorman is a beverage development company. Flavorman predictions for 2018 beverage trends include maple, honey and botanical notes.  How do they arrive at those conclusions?
Aaron Parker is the chief operating officer of Flavorman, a beverage development company in Louisville. He and flavorist Tom Gibson say a big drink trend that ended up on store shelves they saw amidst the recent sriracha craze was ginger.
"Ginger, we saw a lot of that coming up," Parker said.
Gibson interjected: "Yeah, parlaying off sriracha, that spice."
Click "More" to listen to more about Flavorman's predictions and processes. More...
thumbnail courtesy of wfpl.org